Moto Guzzi 3 X 3
Mulo Meccanico
(mechanische ezel)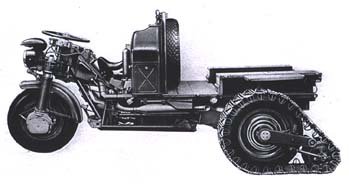 Als je op de plaatjes klikt vindt je de web-pagina waar de plaatjes wegkomen..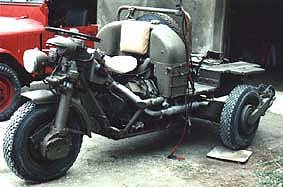 In het Duits kan ook, met meer plaatjes!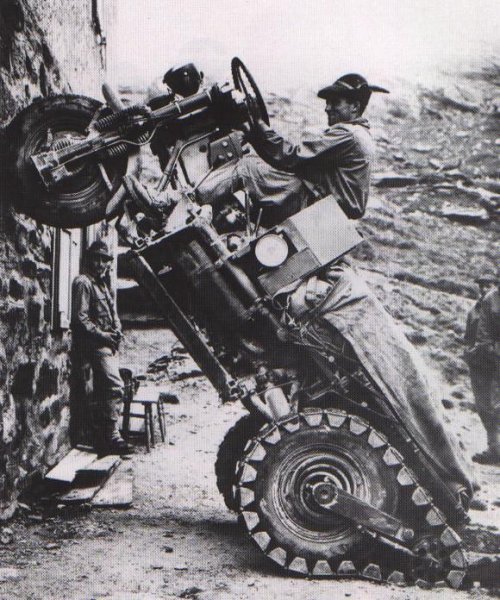 From 1960 to 1963 the company has made 420 mulos - 20 prototypes and 200 of the 1st and 2nd serie.
The heart of the "Moto Guzzi 3x3" is a big two-cylinder-V-gasoline engine with 754 ccm, 20 PS/4.000 and a Weber carburator. Before, this engine was developed by Carcano just for fun, but now he could made some modifications to get a maximum speed of 50 km/h.
The gear box with 6 speeds and a reverse-gear drives directly the steering front wheel, the transmission to the two rear wheels, which have to carry the maximum load of 500 kg, is a cardanic shaft. Naturally the three wheels have a permanent three wheel drive.
A central differential distribute the transmisson between front and rear wheels and has a manuel lock-out - also the rear differential has a lock-out.
But that's not all. To be movable also on very narrow pathes you can variable reduce the track of the rear wheels from a maximum of 1.300 mm to a minimum of 850 mm. So you come through nearly every situation.